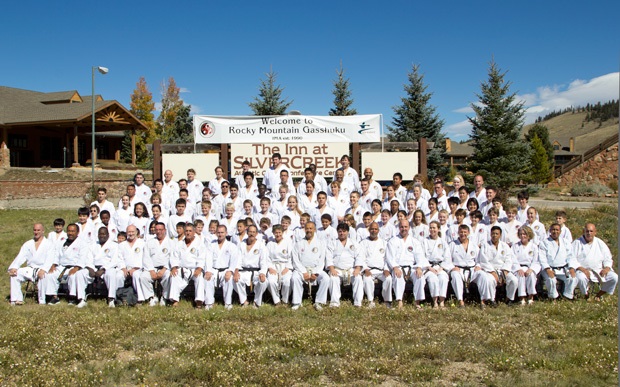 For our 20th Annual Rocky Mountain Gasshuku, we returned to the Inn at Silvercreek in Granby, Colorado; home of our first gasshuku and the many years that followed. Mother Nature smiled upon our return providing participants from several dojos in Colorado, Utah, Nevada, California, Missouri, Texas, New York, Pennsylvania, Minnesota, South Carolina and Florida with beautiful weather for training. On Friday and Saturday, students worked hard learning new kata, sparring and self-defense drills. Saturday evening was a warm gathering of close to 160 students and their families and instructors for dinner, a talent show, and dancing. Our family-friendly kumite tournament on Sunday gave the students an opportunity to try out the new techniques they learned.
IMA would like to extend a sincere, heartfelt thank you to all the students, parents, out-of-state senseis and participants, USA National Karate team coaches Dustin Baldis, Tommy Hood and Akira Fukuda, and IMA's very own Hanshi Madani, Shihan Madani and Kyoshi Richoux for their efforts in making this the best camp ever.
If you missed this year's camp, be sure to mark your calendars for next year: October 2 to 4, 2015.