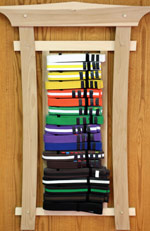 The Dojo will be closed for regular classes on Saturday, January 19th for Kyu Belt Testing.
If your current belt level is white through orange/white stripe, your testing time is 9:30am.
If your current belt level is full orange belt (and up), your testing time is 11:30am.
All students who are testing must be at the Dojo at least 15 minutes prior to your testing time.
If you or your child are testing, please pick up an application at the Dojo and return it no later than Thursday, January 17th. Applications will not be accepted on testing day.
Please check your Student Handbook and visit our Belt Testing Guidelines for additional information about how to prepare for your test.