Join IMA North Fork Karate in Grand Junction on Saturday, October 27nd for the 5th Annual North Fork Karate Championship!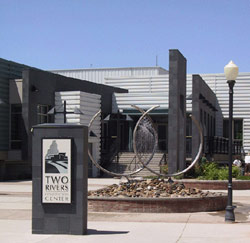 Once again, this year's tournament will be held at the Two Rivers Convention Center, located at 159 Main St., Grand Junction, CO. IMA North Fork Karate have arranged for accommodations next door to the venue at Hampton Inn or Fairfield Suites. There is also have a more affordable option available with La Quinta.
More information about the tournament can be found at the IMA North Fork Website including the Tournament Entry Form, list of Competitor Divisions, a Map of the area, and a link to pay for your entry fee.
The tournament will be using modified WKF Rules (see www.usankf.org under "member resources") plus nationally and internationally rated referees and judges.
Sign-in starts at 8:30am and the opening ceremony will be held at 9:30 AM, to give some local participants a chance to travel Saturday AM.