Join IMA North Fork Karate in Grand Junction on October 22nd for the 4th Annual North Fork Karate Championship!
Sensei and Sampai McGavin work hard to bring the same quality to the North Fork Championship that everyone expects from IMA tournaments. This year, the tournament is in Grand Junction at the beautiful Two Rivers Convention Center in downtown Grand Junction.
Participating in these events is important for all Karateka:
You all train hard and tournaments are a great way to show and test your skills with your friends.
Competing in tournaments and setting personal goals for yourself helps you stay motivated to train and succeed, growing your skills and confidence.
You meet new people and make new friends and help everyone to work and succeed together as a karate family.
Without your support, these events may not happen in the future.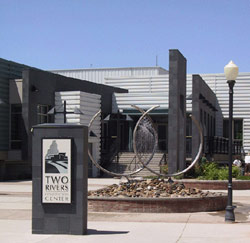 The Two Rivers Convention Center is located at 159 Main St., Grand Junction, CO. IMA North Fork Karate have arranged for accommodations next door to the venue at the Hampton Inn or the Main St. Suites.
More information about the tournament can be found at the IMA North Fork Website including the Tournament Entry Form, list of Competitor Divisions, a Map of the area, and a link to pay for your entry fee.
The opening ceremony begins at 9:30am on October 22nd
Grand Junction is about 4 hours from Denver and the fall is a beautiful time to visit the western slope and have fun with your karate friends. So get your friends and family together and we'll see you in Grand Junction!